Old City Hall Gallery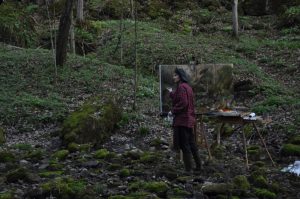 Iowa painter Rose Frantzen is represented by Old City Hall Gallery in Maquoketa, Iowa, where she shows with her husband, Charles Morris. Frantzen and her parents, Wayne and Ellen Frantzen, purchased Maquoketa's former city hall in 1991, converting the three story 1901 building (currently under construction) into a gallery and studio space.
From the website: A native of Maquoketa, Iowa, Rose Frantzen has gained national and international acclaim for her oil paintings from life that bring contemporary perspectives to a traditional alla prima approach. In addition to landscapes, still lifes, and figurative works, Frantzen creates serial and allegorical works that incorporate diverse stylistic elements along with gilding, stained glass, and mosaic.