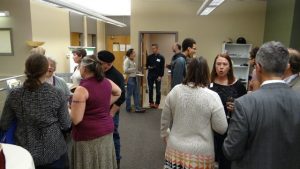 SILT friends ate, drank and were merry at the opening of SILT's first brick-and-mortar office just 2 years after the organization was launched.
Executive Director Sheila Knoploh-Odole, a resident of Beaverdale, found the office in nearby Urbandale through her friend and developer Jeff Young. SILT is renting enough space for Sheila, an administrative assistant and quarterly board meetings. The office is easy to find, requiring just 2 turns off of I-80.
Key SILT allies such as Ralph Rosenberg, executive director of the Iowa Environmental Council and board members Stuart Valentine and Gina McAndrews, Suzan Erem and Paul Durrenberger greeted friends and discussed SILT's role in Iowa's nonprofit landscape.
Supporters expressed delight at the festive atmosphere and great refreshments purchased by SILT Board Member Anne Johnson. Sheila's daughter Ellie was also a great help the day of the event.
SILT is ready and waiting to discuss all the ways Iowans can protect their land to grow healthy food. Contact Sheila at the office (515) 278-0550 or email her at sheila@silt.org.