2015 figures on land ownership in America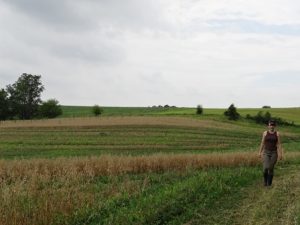 American Farmland Trust: Farming on the Edge
"Our food is increasingly in the path of development. – An astounding 91% of our fruit and 78% of our vegetables are produced in urban-influenced areas.
Wasteful land use is the problem, not growth itself. – Wasteful land use is the problem, not development itself. From 1982 to 2007, the U.S. population grew by 30 percent. During the same time period, developed land increased 57 percent."
Action Aid: The Great Land Heist
NPR & Harvest Public Media: Forget the golf course, subdivisions build around farms
Land Trusts – What, Why and How
Vermont- https://www.vlt.org/
Land Trust Alliance: Beyond Agricultural Conservation Easements
"Thirteen years ago the Land Trust Alliance's National Land Trust Census reported that the percentage of land trusts identifying farms and ranches as the primary types of land they protect was 46%. The 2010 Census shows that figure rose to 61%. As the land trust community matures, so do the methods for protecting land."
Farmland Conservation 2.0- How Land Trusts can Protect America's Working Farms
Examples of Farmland Conservation
Serosun Farms – An example of a development and organic farm incorporated into one another – in Kane County IL.
Hudson Valley Food Shed Conservation Plan- Example Plan for Farmland Conservation