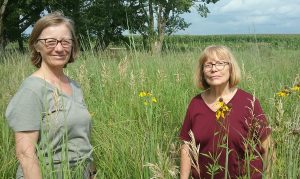 Members of the Henning Sisters Ltd. Partnership decided it was time to get out of the land business. Of the original 4 sisters, 3 remained plus the son of the one who had passed.
Beth Henning, retired from public service, led the effort to protect the family's two farms. She spoke with multiple land trusts. She decided the family needed the certainty of a conservation easement that would protect important natural areas of the farms while supporting future farmers. SILT committed to both of those.
This farm has been in the Henning/DeLong family since 1914 when the Henning sisters' maternal grandparents, Charley and Kate DeLong, married and moved onto the farm. Charley DeLong grew up across the section on a farm owned by his parents, making the Henning/DeLong tenure in Section 15 of Elm Grove township more than 120 years. Through the use of agricultural conservation easements on this property, the family partnership is able to sell it to the next generation for less than the market value of unencumbered land.
The land currently produces certified organic corn, soybeans, small grains, and alfalfa in a roughly 4-year rotation. The prospective buyer, a nephew of the Henning sisters, has stated his intention to continue producing certified organic food-grade grains and certified organic animal feed with the current tenants, who have been operating the farm since 2004. Future uses could include AWA certified livestock, nuts, fruits, and vegetables. The parcel is large enough to support multiple farmers growing a diversity of crops.
This easement allows for a maximum of two dwellings in one minimal protection area, which contains a well and remnants of a farmstead. No other infrastructure exists on the land.