Wittrig family establishes Iowa's first sustainable food production conservation easement
Pioneering arrangement will preserve 130 acres in perpetuity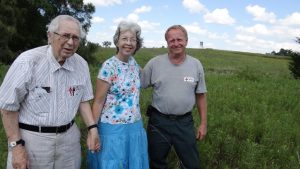 13 November 2017—John Wittrig and his family just made Iowa history. They've created the state's first agricultural conservation easement permanently protecting 130 acres of their farm for sustainable food production, something only the newest land trust in Iowa offers.
Wittrig grew up on the family farm in not far from Winfield, the town in which he and his wife, Betty, now deceased, launched an organic chestnut orchard in the 1990s. He established the easement to protect farmland near Crawfordsville from soil erosion and to open opportunities for farmers who want to practice a similar sort of sustainable agriculture.
The Sustainable Iowa Land Trust (SILT) will monitor and enforce the easement in the years ahead. The Wittrig family continues to own the land and can sell it when it chooses, so long as the 130 acres remain in sustainable food production which includes a variety of third party certifications from which a farmer can choose.
"SILT easements make land affordable for farmers who want to grow healthy food," says Suzan Erem, SILT president. "Establishing an easement reduces a farm's future sale price, making it accessible to new farmers while honoring the current owner's vision for the property." This farm will not be available until it is out of CRP in about 15 years, Erem added, at which time it is expected to be that much more valuable for its affordability.
The Wittrig family are longtime champions of conservation, small farms, and local food. They were the first commercial customers for Red Fern Farm, a Wapello, Iowa, nursery and farm specializing in tree crops and forest farming systems, nearly 30 years ago.
"This is an extension of the Wittrig family legacy," Erem says. "By finding an innovative way to protect Iowa land, they've made a pioneering gift to the people of Iowa."