Grow SILT Parties Scheduled
SILT is launching our first Grow SILT parties this year to update supporters across Iowa in a convenient, friendly and intimate setting.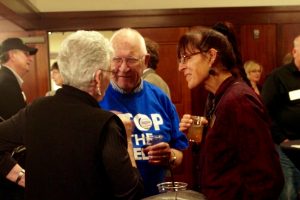 Join SILT members at their homes or local gathering spots, break bread together and hear moving stories of farmland protection, the challenges and joys of 2017 and what you can do to help SILT reach our goal of protecting land to grow healthy food. Everyone welcomed but RSVP.
Ames
May 25th, 5:30-7:30 pm. Home of Cornelia and Jan Flora, 1902 George Allen St. Ames. Light refreshments.
Honey Creek
June 8th, 6 – 8 pm. Hitchcock Nature Center, hosted by Breanne Seidle and George Oamek. 27792 Ski Hill Loop, Honey Creek. Light supper.
Des Moines
June 17, 6 – 8 pm. Home of Rachel Garst. 5001 Country Club Blvd Des Moines, IA 50312-1913
Fairfield
June 30, 5:30 pm – ?. Home of Gitam and Jimmy Ryan, 505 Royal Oaks Lane, Fairfield. Potluck, program and house concert!
Calmar
June 25th, 1 – 3 pm. Home of Lyle and Sue Luzum. 2264 200th St. Anyone interested in supporting SILT always welcomed, but this gathering will focus on farmers interested in applying for farm SILT properties. Includes farm walk and explanation of the SILT application and vetting process.
 Interested in gathering your friends and learning more?
Contact us about a simple, fun Grow SILT Party this fall!
Save these dates as well!
SILT Showcase Days designed for landowners seeking to protect their land. Presentations and answers from an attorney and an appraiser plus meal and farm tour. FREE and open to the public.
Atlantic, June 21, 10 am – 2 pm.
Garber, July 12, 10 am – 2 pm.
Mt. Vernon Aug. 13, 2 pm – 5 pm.
Wapello Sept. 20, 10 am – 2 pm.
SILT's Annual Dinner and Landowner Recognition – Thursday, Nov. 16, 2017, Embassy Suites, Des Moines.