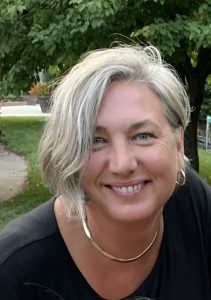 Genie Maybanks, the former marketing coordinator and outreach director at New Pioneer Co-Op, has been named corporate partner development specialist at the Sustainable Iowa Land Trust, a local nonprofit that works with landowners to permanently dedicate their land to table food and market farming.
Maybanks' new responsibilities include developing key corporate partnerships and fostering relationships with those in the community who share the same commitment as SILT, which currently protects nine farms totaling 935 acres across the state. 
"I was drawn to SILT because of its mission to make it easier for a new generation of farmers to get out on the land and grow sustainable, Earth-friendly food that nourishes people's bodies and souls," Maybanks said. "I want to help make Iowa the national leader in healthy food production and SILT affords me that opportunity by using the marketing skills I've cultivated through more than 20 years in the industry." 
Maybanks spent 18 years in her position at New Pioneer Co-Op, which has stores in Cedar Rapids, Coralville and Iowa City. She conducted classes, provided store tours, oversaw social media marketing efforts and maintained an open line of communication with the community at-large about the importance of local and healthy food. 
SILT executive director Suzan Erem said Maybanks' previous work with sustainable, healthy food is "a natural extension and solid foundation" for her new role. 
"Genie's experience overseeing New Pioneer Co-Op's public-facing programs, her outstanding reputation and keen understanding of the sustainable and healthy food farming communities make her the ideal fit for her new role," Erem said. "We're looking forward to Genie carrying SILT's mission and message to the business community and strengthening our relationships with corporations committed to a future of diversified farms and agribusinesses across the state."
Companies interested in learning more about what SILT offers can contact her at genie@silt.org.