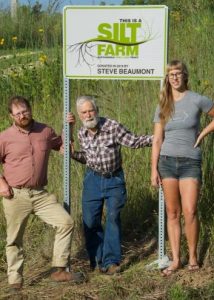 Steve Beaumont has no children. He had retired a single man on a high ridge over Garber in NE Iowa in the home he'd built himself. After hearing about SILT and deciding to donate his deed to us, he asked us to find farmers for him.
Through our informal networks, we were lucky to find Will and Adrian, a young couple looking for opportunity. Will and Adrian had both worked on farms for 7 years but could not find land they could afford. Knowing they would need side income for startup ahead of time, Adrian expanded her freelance writing side-career while farming to prepare for when they'd find it. Will continued to hone his farming knowledge at other farms.
A friendship that goes both ways
The friendship between the young couple and retired carpenter grew as their business relationship grew. Steve rented a home he owned in Garber to Will and Adrian so they'd be close to the farm while Steve still lived there. He let them build a small hoop house in the backyard of that home so they could start their seeds. They cooked for each other and shared meals.
Steve ran water and electric lines up to the fields and started to build a wash/pack shed for Will's vegetables. Will had to finish the project when Steve, 76 by then, started to reach his limits. Will drove Steve to his medical appointments in Iowa City, more than an hour away, whenever Steve needed it. And while Will launched the farming side of things, Adrian pitched freelance articles and got published in Civil Eats, the Manchester Guardian and other publications, but eventually the farm work called and they became equal partners in the farming itself.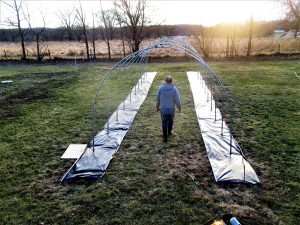 Change Comes
One day, the same as many, Will and Adrian walked into Steve's home to check in on him on their way to the fields, but that day they saw blood around the house. Steve had cut himself and was disoriented. After more trips to the VA in Iowa City and a stay in one nursing home, Steve eventually landed in another nursing home. Will, Adrian and Steve's many friends from the neighborhood and his career helped him during this difficult time. His elderly brother and sister lived far away and did what they could, but it was Steve's community, including Will and Adrian, that got him settled in and comfortable.
Will and Adrian moved into Steve's home, cleaned it out, worked with Steve's brother and SILT on what to sell and how to transition ownership to SILT. They've planted perennial food crops where Steve's garden used to be and named the garden after him. They visit him frequently and tell him stories of the farm.
A Solid Farming Future
Will and Adrian have now signed a long-term, affordable ground lease with SILT that provides them home ownership and equity in all of the buildings on the property. They grow nearly 30 different vegetables but might be best known for the shiitake mushrooms they grow on logs they store in the timber. They've named their place Jupiter Ridge Farm after the location of the land and they've invested in their community as if they're going to grow old there. Because everyone believes they will.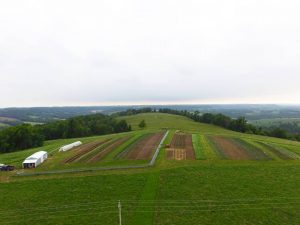 We're sad Steve can no longer live on the land he loved so much but change is inevitable. Steve spoke at the SILT dinner honoring him 3 years ago and made it abundantly clear that this gift was his wish for his community and Iowa. We are now able to show everyone what that gift means to the next generation of sustainable food farmers.
This is the trust and confidence land donors and farmers have put into SILT. We are pleased and proud that in just 5 short years, we've already made such ambitious dreams come true.
Only by growing our membership through donations will we be able to continue this good work.
Suzan Erem, Executive Director
PS: We have searched high and low and can honestly tell you that few foundations fund this kind of work. If Iowa wants this vision to come true, we need individuals like you to dig deep and know that your investment in SILT will pay back a thousand-fold in benefits to our state.