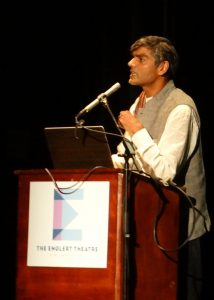 Author and activist Raj Patel drew more than 425 people to The Englert Theatre Wednesday Oct. 2, despite rain storms and competing events. Guests heard the story of amazing women from Malawi and their impact on Iowa farmers they met when visiting America. Farmer Denise O'Brien, who appears in the documentary, moderated the Q and A with Mayor Jim Throgmorton and Raj Patel.
Raj spent the next day visiting classes and meeting with professors at the University of Iowa before heading back to Austin.
Iowa City resident Mark Weinstein won the Thanksgiving Dinner for 8 from Lucky Star Farm and New Pioneer Co-op. He indicated he planned to share it with fellow climate activists! Thank you Eric Woolson from The Concept Works for the donation!