SILT: Affordable land access for healthy food farmers.
Two Ways To Access SILT Farms:
1. Private ownership.
Voluntary land protection agreements, called conservation easements. These keep the land in the family but limit future uses to just farming. This land can be bought and sold among farmers but must always be kept primarily in nature-friendly food farming (SILT supports diversified farming operations that include fiber, flowers, timber and other products). SILT does not own land with conservation easements on it.
When land use is limited by such an easement, its value – or cost – goes down. SILT easements are showing about a 40% drop in cost so far. As the land passes between and among farm buyers, it will no longer be under pressure from housing developers or the next largest farm. SILT monitors such easements annually to maintain the integrity of the donor's original intent. SILT easements always provide for normal farming operations and housing for multiple generations or farm workers.
2. Ground leases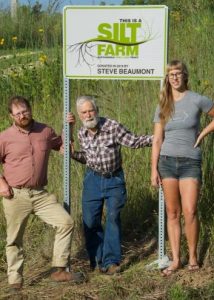 When SILT owns a farm due to a land donation to the trust, we set discounted rates on the long-term land lease and the option for farmers to own the buildings or build new ones they will own.  These are very favorable terms, meant to honor the gift that SILT holds.
If you are or know Iowa landowners interested in donating land or easements, contact us today. 
This is what we mean by "sustainable:"
Time on the land, not in your truck.
SILT is targeting parcels of all sizes near major metro areas, giving you proximity to a local foods direct-sale, retail and wholesale market. Eventually, SILT expects to be active in supporting food hubs and aggregators to increase odds of success and meet your needs from seed to sale.
Not quite ready to start farming? 
SILT will continue to network with farmer education organizations such as Practical Farmers of Iowa, Women, Food and Agriculture Network, MOSES and the Land Stewardship Project to inform you of every chance to improve your skill set and practices, build a business plan that will success, seek out the right markets for you and more.
"When there's plenty of money, the speculators and bankers beg it first, and the farmers always lose out in the long run. What we need is a law to fix the value of land and remove it from speculators."  1916. 
Three Miles Square. Paul Corey. 1939