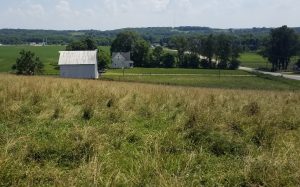 Adopt an Acre: There's a new way to see your SILT support in action. Announced late summer 2020, SILT has posted four farms it is planning to protect by the end of the year. Donors can direct their donation to a particular farm acquisition by "adopting an acre" or more or less as they so choose. The funds raised are being matched by UNFI, the nation's natural food distributor.
"We have Iowans ready to donate all or most of the value of their farm to SILT," explained Executive Director Suzan Erem. "All we need to raise is the closing costs. This gives people the chance to support a particular farm they would love to see protected, or all of the farms if they like."
The response has been very strong, Erem said, with the Johnson County "Fleck Farm" at the top of the leader board and Linn County's "Dows Farm" coming in a close second so far.
The adoption process will continue until the end of October or until all farms are adopted!