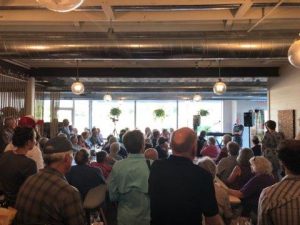 The weather was HOT, the beer COLD and the carnitas sizzling at Decorah's first SILTFest July 19!
An estimated 100 people packed into Pulpit Rock Brewery to hear Eggen and Hippen play soulful acoustics. Emcee Kayla Koether and a rock star list of speakers explained what a landscape of permanent nature-friendly food farms means to them and how we're going to get there.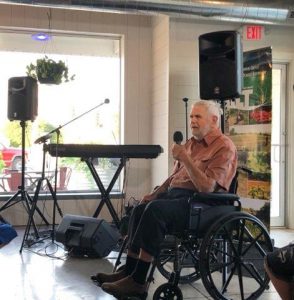 Former NRCS National Director Paul Johnson talked about how silt and SILT hold it all together. Land donor Lyle Luzum explained what it meant to donate his heritage farm (and for his daughter Steph to donate her inheritance). Young farmer Andy Boone was there to say what an opportunity the community had given him to grow their meat. One of Andy's customers and SILT Supporter Michael Klimesh praised the pork so highly that Driftless Hills Farm must've gotten some new customers that night!
Thank you Decorah for your love and support. We have 100 new friends along with our family of land donors, leaders and farmers now. We plan to stay in close touch and come visit for another SILTFest in 2020!
Special thanks to Decorah Bank and Trust, Pulpit Rock Brewery, Oneota Food Co-op and RAYGUN for their sponsorship and support of this event.