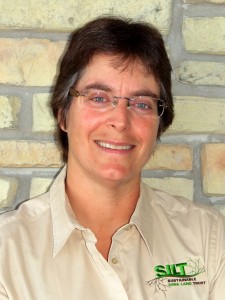 March 17, 2020
Early last week, we began taking precautions at SILT to protect our staff, landowners and supporters from the spread of COVID-19. Staff are working from home. Board and committee meetings are done by video. Events are postponed. We hope everyone will follow the CDC recommendations so we can get through this as quickly and painlessly as possible.
But thankfully, our work protecting land can and will continue.
Farm Specialist Joe Klingelhutz uses social distancing and clean hands on his land walks. Besides, a walk outside is just what the doctors order! Iowa landowners can contact him anytime to make an appointment.
We continue to protect land. Small meetings are safe when done with proper precautions. In fact, the donations already in progress can be completed virtually.
We will be updating SILT members individually by phone over the next few months with the latest news. Please watch for calls from me or Genie Maybanks.
Watch for live stream chats on our Facebook page, to show you SILT farms and answer your questions about what SILT protection looks like to landowners, beginning farmers and the community. Please Follow us there, on Instagram or on Twitter to get notifications.
Be safe, don't panic and remember, we're all in this together and together we will get through it. Please contact me any time with questions, ideas or to connect us with landowners interested in permanently protecting their land to grow healthy food.
Wishing you and your family the best in these difficult times,
Suzan Erem
Executive Director, SILT
319.480.4241