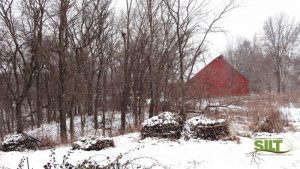 120 people attended the SILT dinner this year to honor our third land donor, Steve Beaumont, who brought our total acres protected to 115 in just two years. The celebration came on the heels of a day-long planning session that welcomed 7 new board members and 40 volunteers who set SILT's goals for protecting more land to grow healthy food.
People are coming together because they understand it takes a combination of time, effort and money to fulfill our ambitious mission: SILT protection translates into more fresh food, clean soil and water and affordable land for future generations of Iowans.
Please help us launch 2017 with a donation of any amount today.
"SILT is a great way to rejuvenate our rural communities." Land Donor Steve Beaumont, Garber, IA
MARK YOUR CALENDAR: Thursday, Nov. 9, 2017  for SILT's Next Annual Dinner!
For helping us celebrate in such grand style we thank UNFI, Theodosia Ferguson, Niman Ranch, Leopold Center for Sustainable Agriculture, Grinnell College, Boone County Organics, Mary Hays, Julia McGuire, Kathy Dice and the SILT Farmers Committee!