Iowans have a deeper connection to the land than most Americans.         
Our original economy was built on orchards,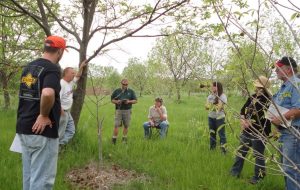 vineyards and small diversified farms that dotted the countryside, feeding our families, neighbors and friends. We were once first in the nation in producing apples, wine grapes and potatoes. Our economy still relies heavily on agriculture, but our vision of what agriculture entails has shifted over the years.
New science, growth, economics and the realities of climate change have us shifting back to more diverse agriculture in our communities and our landscape. We are recognizing that growing our food here in Iowa means better food security, cleaner water, healthier children and more vibrant small communities.
SILT is the only organization in Iowa dedicated to ensuring that  farmland produces healthy food for Iowans in perpetuity. Whether you own hundreds of acres of corn ground or a few acres just outside of town, SILT can protect your land and help find the farmers who will carry on our long tradition of growing food.
Exceptional tax benefits for land and easement donations can help some landowners receive almost as much as they would have if they had sold their land.
Contact SILT today to learn more about the process of donating your land or an easement to grow food and farmers for the next generation.
Excited and ready to do something about it? Then let's get started! Tell us more about your land with this simple online form and we'll get in touch soon.
Don't like forms? OK, contact us and we'll talk first!
Ways to Make a Lasting Difference
Donating Land
Donating land is one of the finest legacies you can leave to future generations – guaranteeing local, healthy food for Iowans, forever. If you choose to donate your land, SILT can work with you to identify the best arrangement that suits your needs. Land SILT owns will help launch beginning farmers, and could provide educational opportunities, become community spark plugs for economic growth, agri-tourism and provide a wealth of other possibilities. The full market value of the land donated to SILT is tax deductible as a charitable gift.
We'd love to learn more about your land. Please use this simple online form so we can get started or just call or write so we can talk. Thanks!
Reserve Life Estate
You can donate your land to SILT now while living on it or enjoying it for as long as you please. This option allows you to have the peace of mind that your land is protected while you enjoy the tax benefits of this significant charitable gift. It also relieves your heirs of the complications related to the farm after you're gone. This removes the value of the farmland from your estate, potentially lowering legal and tax liabilities.
If this options sounds good to you, please fill out this simple online form so we can learn more about your land. Or contact us so we can have a chat and see what works best for you.
Donating an Easement
A "conservation easement" is a legal agreement between a landowner and SILT that permanently limits uses of the land in order to protect its conservation values. You will still own your land, and you can sell it or pass it on to heirs. An ag conservation easement limits the use of the land to growing food, not hotels or condos, no matter who owns it – and finally – a sustainable ag easement will limit its use to a spectrum of soil-friendly farming practices.
When you donate a conservation easement to a land trust, you give up some of the rights associated with the land. Together we will work out a plan that provides for your foreseeable needs while protecting the land to grow food into the future. An easement is a legal document attached to the deed, so future owners will be bound by the easement's terms. SILT is responsible for making sure the easement's terms are followed, including regular visits to the farm every year to monitor what's happening on the ground. A law  passed in late 2015 provides exceptional tax benefits for easement donations. Learn more here.
If you think this sounds like a good idea, please let us know more about your land with this easy online form. Or just contact us to start the conversation. Thanks!
Other options for protecting your land
Resale of Land
If you need to sell your farm but don't want to see it destroyed by development, SILT can help. Prior to the sale, you can work with SILT to place a conservation easement on your land before it goes on the market. We may be able to identify potential sustainable farmers who will buy your land.
Bargain Sale
In a bargain sale, you sell your land to SILT for less than its fair market value. This not only makes it more affordable for SILT, but offers several benefits to you: it provides cash, avoids some capital gains tax, and entitles you to a charitable income tax deduction based on the difference between the land's fair market value and its sale price.
Donation with a Lifetime Income
If you have land you would like to protect by donating it to a land trust, but you need to receive income during your lifetime, consider a charitable gift annuity or a charitable remainder unitrust. Charitable gift annuities and charitable remainder unitrusts are most useful for highly appreciated land, the sale of which would incur high capital gains tax.